Two months ago, right after couture in Paris, I fractured my left ankle during a photoshoot in Asia. This was on a Saturday night, and I had to be taken straight to the emergency room. The doctors, who weren't particularly busy (the ER wasn't that crowded) yet seemed like they had better things to do, didn't catch my hairline fracture and told me nothing was broken or fractured, but that I needed to stay off my foot for at least 3 weeks. When I explained to them I had to fly to Paris the next morning for a photo shoot, they simply shook their head and said it wasn't recommended. But what would they know? I had a hair campaign shoot with Karl Lagerfeld in Paris in less than two days. I had to pull all my strength together not to cry. It was devastatingly painful, but more than anything it was upsetting to lose mobility and job. Here I was, burnt out, waiting for August to roll around so I can savor a break ... but when the option was taken away from me and I was left physically unfit to work, a pang of panic struck.

Upon consulting with my agent, we decided that since the shoot in Paris was not full-body, I'd get urgent care treatments as needed, then fly out as planned. The doctor dressed my ankle in removable cast, gave me 3-day worth of inflammatory medication, and sent me out. When I was discharged, it was past 2am. I had an 11-hour flight in less than 6 hours.

I somehow managed to pull off my shoot in Paris. Fortunately, the client and team were very understanding, and Karl, with his wonderful sense of humor, said he'd sign my cast and even shot a couple frames of me standing on my crutches. While working, I received another big news that I was confirmed for a single-girl fashion editorial in one week for one of the best publications in the industry. It was an opportunity given only to the smallest handful of even the most established models, and I couldn't turn it down. I'd be crazy to.

So there I was, with my foot monstrously swollen, with a lump on my outer ankle bone the size of a tennis ball cut in half, black and blue ... flying from Korea, to Paris, then back to New York, to shoot an editorial wearing head-to-toe fur in 98 degree fahrenheit weather. I somehow finished that too, but it proved to be my breaking point. I had another confirmed job for a major fragrance campaign, but I had to cancel as the concept involved jumping and dancing around.

I spent one month limping around, maintaining a sedentary life. I hardly left the fourth floor walk-up. But there were only so many days of hardcore lounging and self-pity parties I could throw before officially suffering cabin fever. It became a challenge, physically and mentally; however the only way my ankle would heal was if I refrained bearing weight on it and let it rest. I really tried my hardest.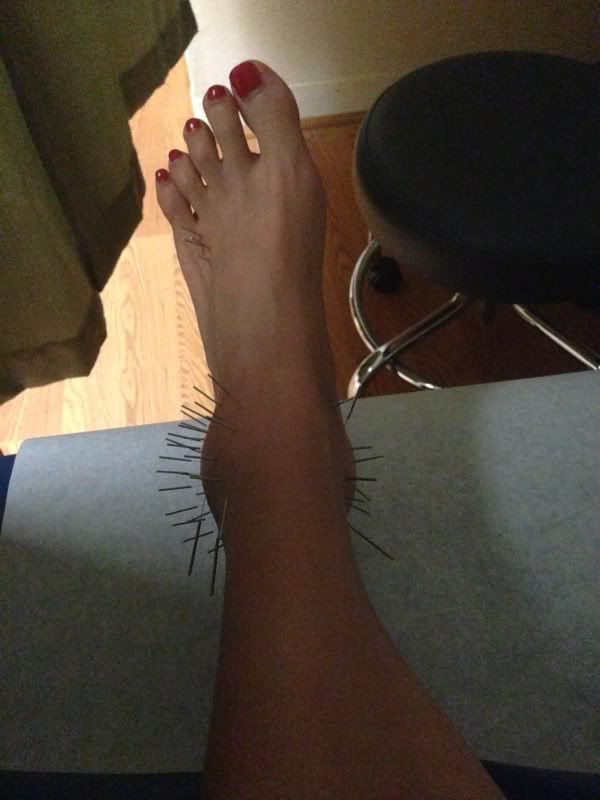 Five weeks went by. I gained weight (inactivity does that) and incredible amount of stress as the swelling and pain refused to subside. This, while September Fashion Week was just around the corner. At first, I tried acupuncture. Hundreds of needles, cupping, and drawing pools of black, gooey substance that hardly resembled blood. But when it failed to yield visible improvements, I decided I needed a third opinion on my foot. I went to a new podiatrist, and only then did we notice the fracture in my x-ray. My injury was a lot more serious than we'd all thought. He put me on MLS laser and anti-inflammatory medication as well as shots. It's a lot of maintenance, but I feel that I am on a faster road to recovery.

So that's where I am at. It's still sore, and I am scared to put on heels, although I know I have to in order to do the job I want. As much as I enjoy fashion week, my agents and I are planning on taking a conservative and selective route. Lot of the pressure is self instilled, because I want to keep building on top of my last season and establish further. But I know there's only so much within my own power. I accept that. And I will try everything to put my best foot forward.